In the last two decades I have gained many impressions and experiences that remain hidden from mang others in their professional lives. That's probably why I've become a popular contact for the press, because my perspective on things certainly closes many a circle. Especially in the context of crime prevention – on the topics of stalking, violence against women and safety for women – I like to share my knowledge. Because, as my investigative work with the Berlin Criminal Investigation Department has taught me in particular: Clarification achieves a lot. Just knowing about crimes, how the perpetrators act and about possible strategies for protection can prevent individual crimes and even save lives. This aspect alone is an important reason why I like to share my knowledge and life experience with many people.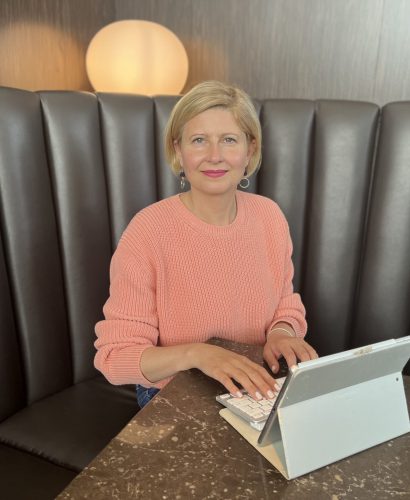 But not only that: all these stories want to be told, I also feel that in my own inner need. Again and again I see eyes that sink into other worlds, followed by a sudden understanding. Especially when I touch people's hearts, it can make a real difference. And there, the smallest details are sometimes enough to understand the bigger picture all at once. That`s what I love.
When I met Dr. Erich Vad  in 2021, a new process of consciousness set in for me regarding all the issues that occupy me privately and professionally: healthy and toxic relationships, the interplay between women and men – and what all this has to do with rampant violence, abuse and killing. The all-important question here: What part do social role models and pervasive structures play? Dr Erich Vad added a crucial factor to my own understanding of all these issues at this point: The male perspective. An understanding, seeing, reality-acknowledging male perspective. Benevolent and supportive of women.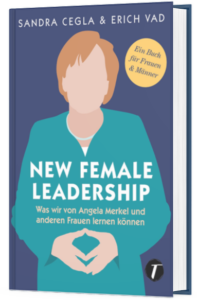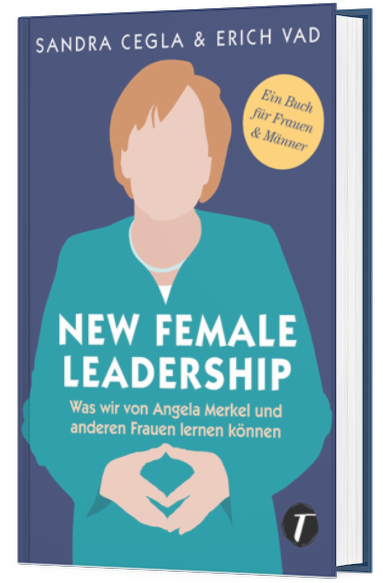 New Female Leadership
The leadership of the future is more female: A rousing plea by Sandra Cegla, security expert for stalking victims, and Erich Vad, a long-time advisor to Angela Merkel. (german version)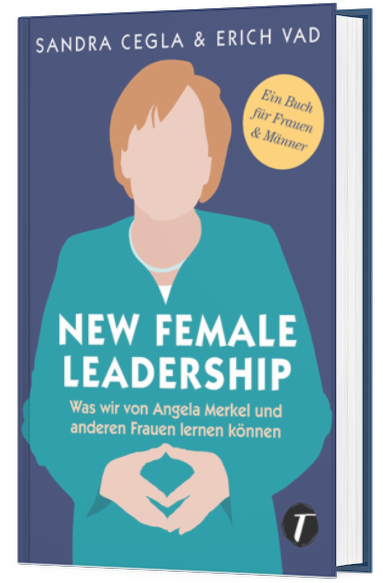 I had heard the phrase "You absolutely must write books!" countless times in my life and had also felt a strong resonance within me. Because I noticed that writing down my experiences touches the issues on an even deeper level than when I talk about them or give workshops on them. And yet, until now, the time had not come. Now it has. The meeting with Dr. Erich Vad gave me – but also both of us – new perspectives and ways of looking at issues that we had each been dealing with for years. The time was ripe and the idea was born: New Female Leadership – What we can learn from Angela Merkel and other women" was allowed to come into being. In our book we share very personal experiences in the professional environment with regard to New Female Leadership. For us, feminine leadership describes a way of leading that both women and men can adopt to create a healthier, more productive and fulfilling environment. Women are, of course, the ambassadors of femininity who are first and foremost allowed to wake up and become aware of their natural strengths. But with our book we also invite men to connect more with their feminine parts and a more feminine leadership style.
Feel free to contact us for the following formats:
I am happy if we can inspire you with our ideas to rethink leadership and our social interaction. Please give us your feedback or invite us to your event so that we can reach many people and sow the seeds for a beautiful world of tomorrow.
This is exactly why I have been an active speaker for many years.
"Women and men are different. We do not want to make equal what is not equal;
we want equal opportunities."
(Sandra Cegla)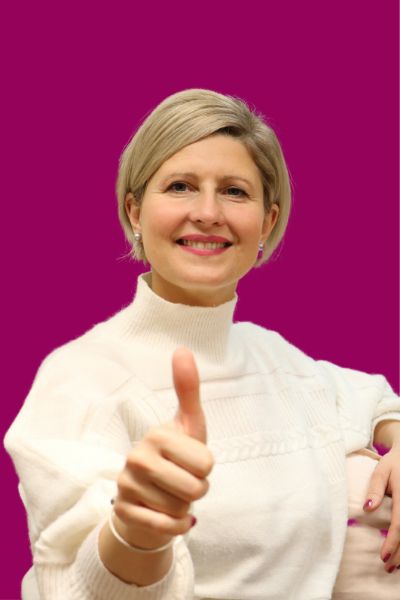 Writing is a big part of my life today, because I want to share my thoughts with you. At the same time, I want to hear from you what you think about my topics and be moved by my words. That's why I have been speaking for years at congresses, in talk rounds, podcasts, in the press, on social media and other formats about everything that moves us both. At the same time, we also have the additional opportunity to train together what you would like to implement in your life. Leadership, defence techniques, intuition and crisis management are some of my main focuses. Here you will find a selection of my possibilities for you:
New Female Leadership
- conflict and crisis management
The future of leadership is more female than it is today. I have written down many aspects of this together with Dr. Erich Vad in our book "New Female Leadership – What we can learn from Angela Merkel and other women". For us, soft skills such as empathy, social competence, emotional intelligence, etc. will be part of a successful leadership style in the future. But what exactly does that mean in daily life, in your work for your company? And, exactly where people come together, different interests, perspectives and needs always come together. If we take a closer look: Conflicts and crises in everyday work are inevitable. Managing these is one of the core competencies of modern leadership and should also be considered and practised daily. Especially in a more feminine way. From my police experience, I bring helpful and proven methods that you can benefit from.
This is exactly what I tell you or, if you wish, we tell together – Dr. Erich Vad and I – in exactly the format that suits you best.
We women are the ambassadors of femininity and should first of all realise how valuable and profitable our qualities are for ourselves and for others. This does not only mean for our families and our entire private environment, but also for the economy, politics and in general. Many companies have long since recognised this and are setting priorities here. Rightly so. Because we women are also a success factor as well as a turnover and productivity incubator for every organisation that recognises and naturally integrates our potential. I am happy to support you and your institution in transformation and change processes in the form of consulting, leadership training, impulse talks, workshops for management and much more. Because it's not just you who benefits from growth, but your whole organisation. Feel free to contact me!
Tip: Have a look at the Business Coaching section
Security for women
(plus defence techniques)
Also and especially in public life, safety plays a big role for us women. At work, on the way home, at company parties – the world is still not as safe for women as we would like it to be. The realities range from sexualised or sexist behaviour to sexual assault, coercion, insults, stalking and bullying in the workplace. Over the past few years, I have held numerous workshops for companies, clinics, universities and public institutions and have literally moved hundreds of women at women's meetings with my trainings. The insights I have gained here are manifold and have shown: Awareness and education are part of a modern corporate culture, because crimes in the workplace are unfortunately always a reality for women. The feedback, on the other hand, is overwhelming – because so much bad can be prevented with simple means and women's sense of security can be drastically increased. It should therefore be in the interest of every employer to prevent this by simple means. Feel free to contact me for your safety workshop, your safety training or your impulse talk.